New York Personal Injury Lawyers - Howard B. Ross
B.B.A., New York University School of Commerce, 1962
J.D., New York Law School, 1967
Admitted to practice in New York.
Formerly a partner in the Law Firm of Chasin, Levine & Ross.
Has been a successful litigator for over 37 years.
Member of the New York State Trial Lawyers Association.
Influential in the Chinese community of New York receiving many awards for his service excellence.
Also practices in the areas of Wills/Estate Planning Probate/Estate Administration.
Formerly worked in the Kings County Family Court as an attorney.
Email Mr. Ross at ross@rlrzf.com.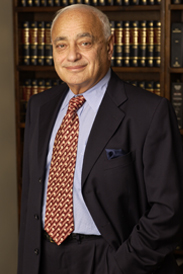 Howard B. Ross, born in 1941, a founding partner of the firm of Ross, Legan, Rosenberg, Zelen & Flaks, LLP, graduated from New York Law School in 1967 and was admitted to practice law in New York State in 1969. After graduating law school, Mr. Ross was an associate at the law firm of Chasin & Levine where he was very quickly promoted to partner. As a partner at Chasin Levine & Ross, the law firm expanded and very successfully litigated cases on behalf of accident victims and medical malpractice victims for 30 years. In 1997, Mr. Ross merged his equity in the Chasin Levine & Ross law firm into Ross, Legan, Rosenberg, Zelen & Flaks LLP. Mr. Ross still actively litigates on behalf of accident and malpractice victims as he has for nearly 40 years. Additionally, Mr. Ross has extensive experience in Estate Planning and Probate. Mr. Ross is actively involved in many local community organizations and affiliations where he serves as an outside counsel.